Online Education Berlin: Should Education Move to The Metaverse- Annual Debate of OEB Global 2022: A Wrap-Up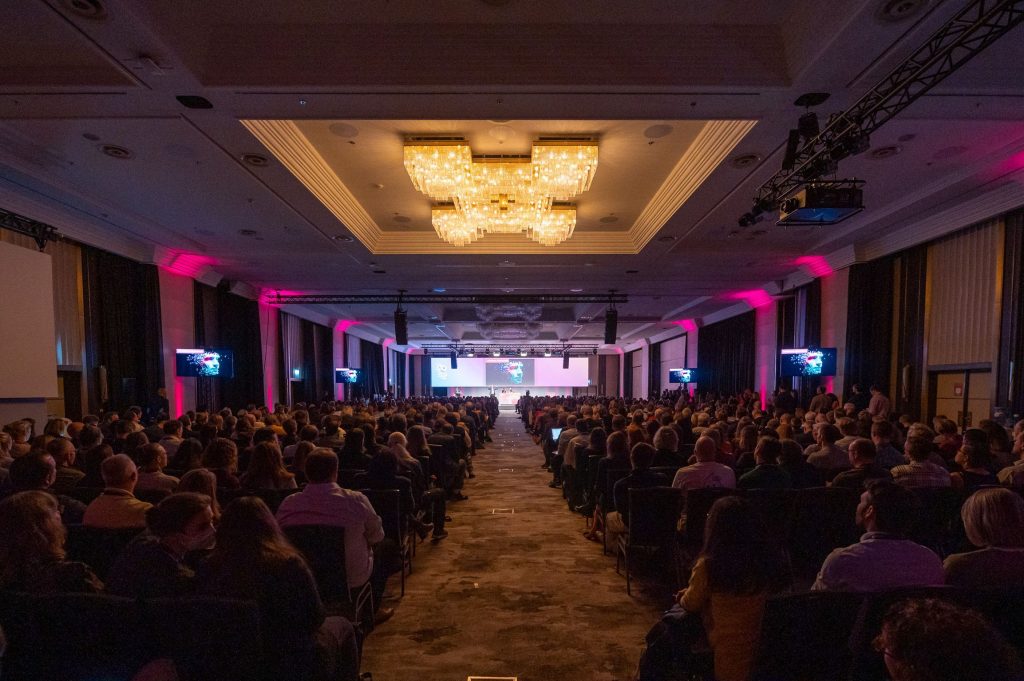 Two weeks ago saw the return of the global conference and exhibition for digital learning and training addressing all sectors. The InterContinental Hotel Berlin welcomed over 2,000 people from more than 70 countries to learn, network and celebrate – all in the name of learning.

Online Educa Berlin is grateful to the thousands of people that made this a digital learning showcase with over 100 sessions and 260+ speakers to remember! If you want to relive the event or discover what you missed out on, continue reading for our official wrap-up of this year's OEB edition. We also welcome you to join us next year on November 22nd–24th for a brand new theme, more captivating sessions, and of course more invaluable networking in the heart of Germany's capital.




Thought-provoking workshops
OEB Global likes to take its delegates on a journey. The event does not jump straight into the conference; the workshops set the scene by getting everyone to brainstorm and share ideas, with experts providing practical, working examples. The Wednesday saw 16 pre-conference workshops, both half-day and full-day sessions, all focusing on a particular topic within a sector. The OEB Conference covers education, corporate learning (L&D), and civil sector learning, so the pre-conference workshops act as a catalyst to start these discussions. This drives the many networking opportunities over the following coming conference days — especially for the big debate that is always anticipated at OEB.

To round off the pre-conference workshops, keynote Inge de Waard invited everyone to the 'learning area' for an interactive ice-breaker session. Inge sparked the friendly and inspired energy that OEB is known for, by getting people to take the mic on stage and introduce themselves and their preferred learning approach – and battle it out! This plenary encouraged a debate that went on for over an hour, with an eager audience taking it in turns to share their thoughts on the best learning approach in 3 minutes each. Inge was delighted with the results, and said that 'OEB is the ideal learning event where networking, innovations and knowledge sharing go hand in hand. Each visit is a professional inspiration.'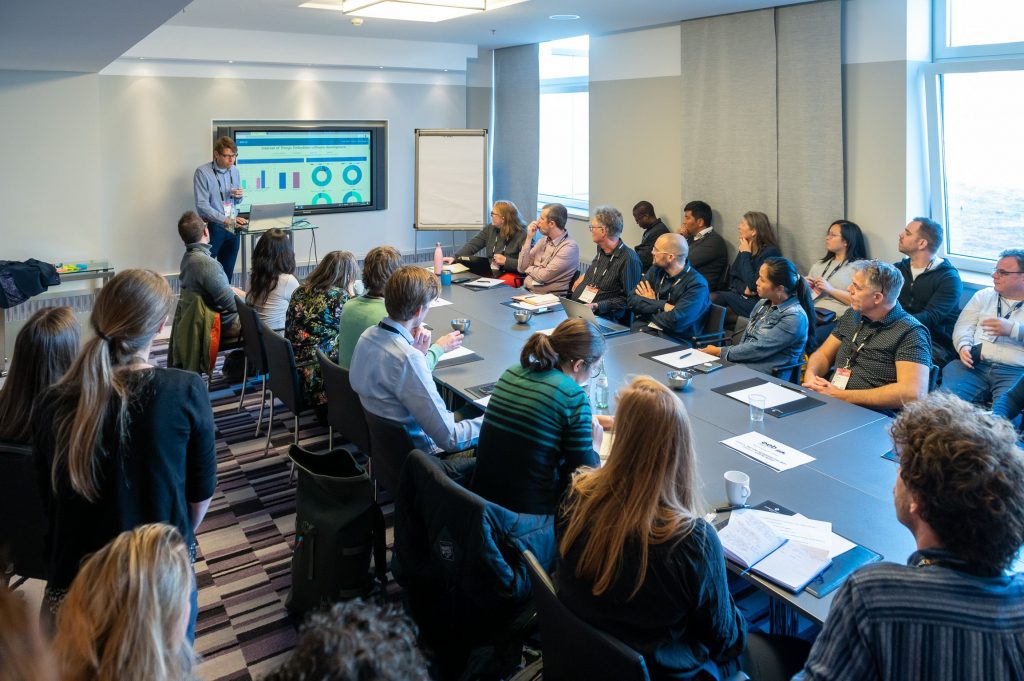 The powerful opening plenary
The packed audience at our plenaries this year were enlightened by a range of inspiring keynote speakers. Donald H Taylor, Chair of the Learning Technologies Conference, moderated the opening plenary on Thursday, November 24th, accompanied by keynotes Njeri Mwagiru, Pär Lager, and David Mattin. As a Senior Futurist at Stellenbosch University Business School, Njeri is dedicated to the future of learning and how organisations can successfully prepare for this future. Njeri's ideas of looking forward perfectly complement OEB22's main theme, 'Reimagining our Vision for Learning.' At the conference, Njeri felt impressed by the 'quality of conversation; the questions are rich, the interactions are meaningful as well – I think that is lending itself to continuing engagement even after this event.'

Pär Lager is a Lecturer at the Swedish Defence University and author of 'Upskill och Reskill'. Ahead of the conference, we interviewed Pär, who gave advice to OEB delegates on how to enhance their experience at the event. We definitely felt our delegates were prepared for OEB this year; everyone was engaged and brimming with energy as the plenary started. Pär said that 'OEB is the place to be in order to both boost your insight in what is going on in the sector today and tomorrow, and to get new contacts from all over the world'.

David Mattin is the Founder of 'New World, Same Humans', which is a popular newsletter in the world of tech trends and human nature — and explores how these two collide. David's enthusiasm for blending the power of tech with the influence of human nature comes across best when he's addressing the OEB community. At the opening plenary, David asked the audience if they have ever asked Alexa, Siri, or any other AI an emotional or personal question, and many people out of the 2,000 that were there nodded their heads. David went on to say that this is proof that 'This world is emerging, the world of virtual companions.'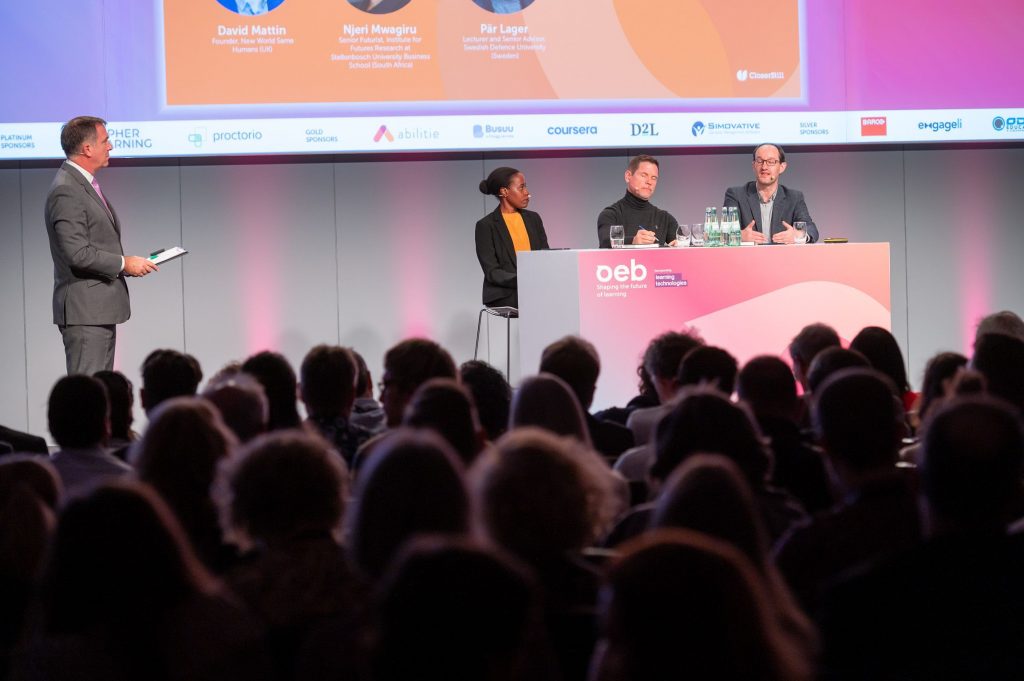 The opening plenary set the tone for the rest of the OEB Conference. What followed the next couple of days was a lively, thought-provoking, and friendly conference with a buzzing exhibition.



'One of the key themes at OEB this year is that yes, technology is necessary. We can't work, we can't learn without it – but it always has to serve the purposes of the people.'

Donald H Taylor, Chair of Learning Technologies Conference


Illustrious keynotes
Delegates were spoilt for choice on the Friday morning of the OEB Conference, with two plenaries focusing on different sectors of learning to choose from. 'The University of the Roller Coaster' was highly popular with our audience interested in higher education, and 'Moving Beyond the Daily Grind' brought in everyone with a passion for Learning & Development.

The higher education plenary was chaired by Gila Kurtz, the Dean of the Faculty of Instructional Technologies at the Holon Institute of Technology in Israel. Gila brought her enthusiasm for higher The academic plenary was chaired by Gila Kurtz, the Dean of the Faculty of Instructional Technologies at the Holon Institute of Technology in Israel. Gila's experience as a visiting scholar at multiple universities worldwide has given her global perspectives on the future of education which made her the perfect host to the three keynote speakers coming from different backgrounds and disciplines.

The first keynote, Clare Walsh, kicked off the entire discussion. Clare is Head of Education at the Institute of Analytics UK, and her topic was about 'Quantum Change in Higher Education'. When we interviewed her after her keynote speech, Clare gave a powerful statement: '…at the plenary yesterday, we looked at some huge-scaling technologies like transformers powering machines like GPT-3, which can have a charming conversation with you – but it's also got a very dark side. Because we don't control the data it learns from when it gets that big.'

As a Professor of Learning Analytics for the Institute of Educational Technology at the Open University, Bart Rienties was eager to share his research during his plenary speech 'Implementing learning analytics and learning design at scale (with some evidence)'. Bart told the audience that 'the first question you have to ask yourself when thinking about learning analytics is, are the activities your students do actually traceable, and does it matter that they can be traced?' He addressed how importance it is that not every organisation can benefit from learning analytics, and analysed the ways people can identify this and how to use these insights.

Our third keynote speaker, Rikke Toft Nørgård is an Associate Professor at the School of Education at Aarhus University, Denmark. In her contribution to the academic plenary, 'Envisioning Education beyond the Pandemic', she analysed and shared how we can look forward to the future of education. Rikke stated that 'we especially need to work together – and I think this crowd is actually perfect for that – to think about all the possible futures, even the preposterous one, and which of these are actually preferable.'

Gina's thoughts on the conference was that 'OEB represents the best blend of industry and academia', and her plenary session highlighted this perfectly.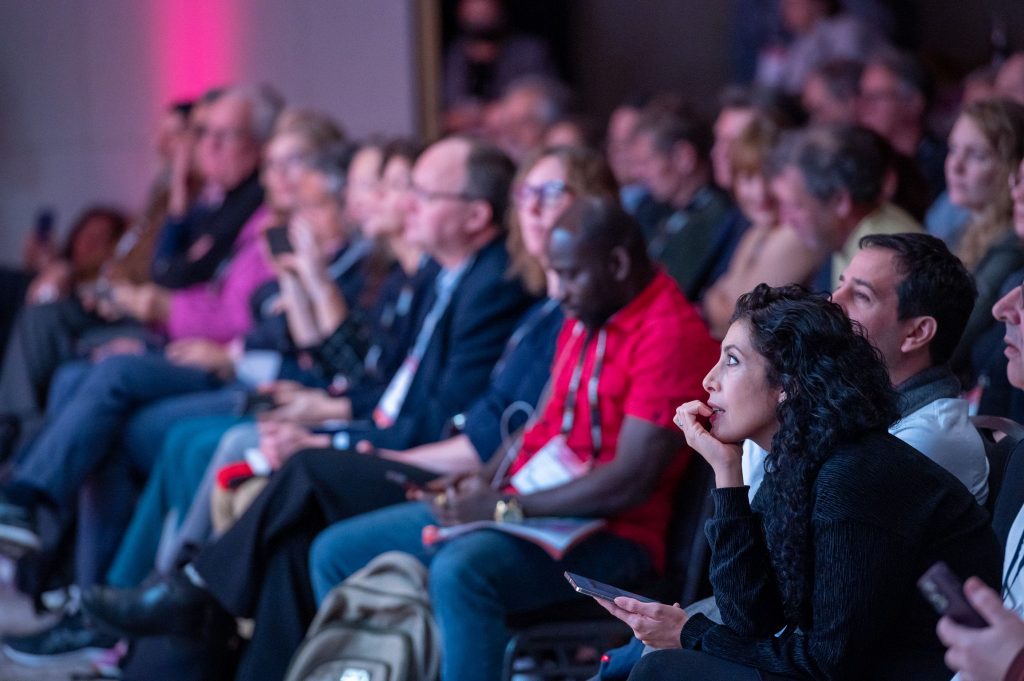 The corporate and workplace learning plenary was led by Donald H Taylor, whose influence in the L&D industry since the 1980s was perfect for this role. Meredith Wellard, VP Group Learning Talent and HR Platforms at DHL, was eager to share the L&D strategy and direction of her organisation, with over 6,000 employees. Meredith emphasised that 'one of the things that makes learning work in an organisation is the ability to describe how and why fits', which is something Meredith mentioned DHL is keen to do in their learning space.

Lukas Lewandowski is Country Manager at COURSERA, Gold sponsor at OEB22, and one of the biggest global EdTech organisations. In his talk, Lukas looked at the big picture of L&D with research. Lukas discussed how his organisation expanded their learning content availability from just L&D professionals to universities as well, as a result of the pandemic. By comparing how this process differed when it came to higher education, Lukas delivered an interesting analysis on designing content for an L&D perspective. Of the conference, he said that 'OEB is a must have event for all those responsible in the education, training or eLearning sector. The extraordinarily high level of the speakers, the variety of thought leadership formats as well as the international audience created a unique, connecting and inspiring atmosphere.'

After much discussion about skills, Anca Iordache talked about getting people ready to learn as a skill in itself. Anca is a Future of Work Global Practice Leader at Citi Learning in Switzerland, with a passion for re-imagining the way we learn and work – which is right on par with OEB 2022's main theme! Anca stated that as L&D leaders, becoming adaptable to what comes next is crucial, but due to the events '…over the last two years, what comes is not always something we can predict.'


Sessions in the spotlight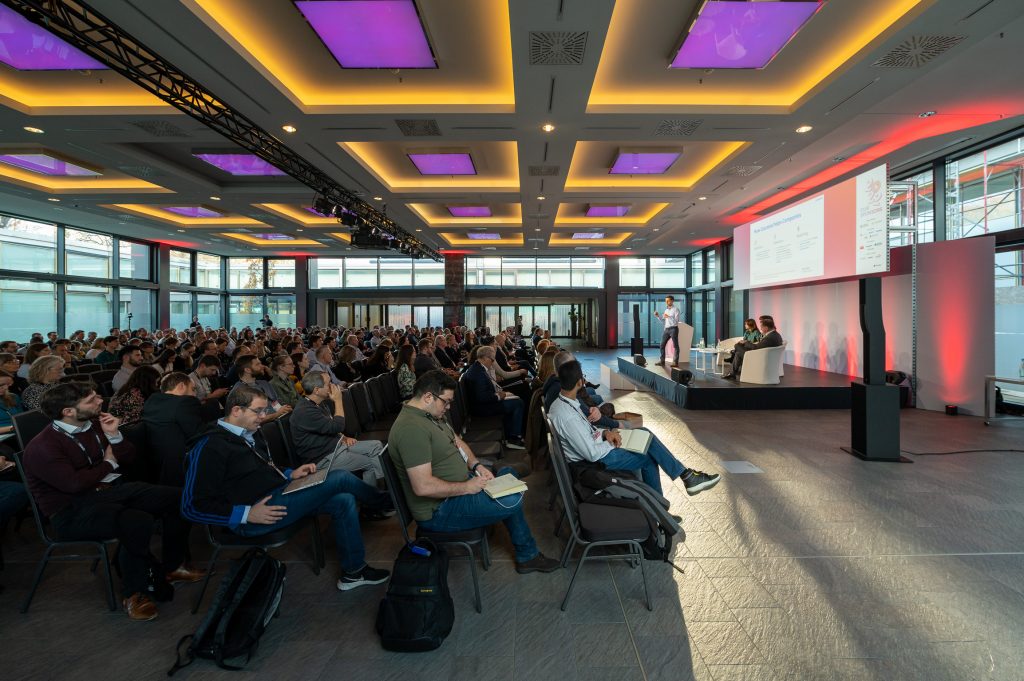 The OEB spotlight sessions reel in delegates every year, for their impressive range of speakers and topics. On Thursday afternoon delegates were invited to discover 'How To Identify and Address Safe Practices and Equity in AI for Education'. Solutions Specific Knowledge Leader, Ildiko Mazar, moderated this rolling session which included an impressive range of speakers, including Stephen Downes. Stephen told us how 'Artificial Intelligence has been big for a number of years, but, you know, this is really the first post-pandemic conference where we've all been able to get together and talk about it, and talk about what it means for education.'

Have you wondered 'How Can Humanoid Robots Assist Teachers in Structuring the Learning Experience?' Professor of Media and Communication at the Berlin University of Applied Sciences, Ilona Buchem, explored this question in her talk and wowed the crowd by sharing examples of robots acting as teaching assistants to enhance the experience of different target groups!
Other speakers included Vesa Paajanen, Gábor Kismihók and Antonio Maratea.
Friday's spotlight stage saw Patrick Brothers and Maria Spies explore 'The Global EdTech Landscape & Future Models for Digital Learning'. Patrick and Maria are both co-CEO of HolonIQ, the world's leading platform for impact intelligence, both with extensive experience and knowledge in EdTech. Maria has teaching and student experience in over 50 countries, and Patrick has held a variety of senior appointments in education across Asia, Europe and North America. In their interactive #OEB22 spotlight talk, they shared insight into the global EdTech trends driving change in education and training and how new credentials will impact post-secondary education.

One of our OEB22 keynotes, Carlos J. Ochoa Fernández, gave a spotlight talk on 'MetaEducation, the New Vision for Human Transformation'. Carlos is Founder and CEO of ONE Digital Consulting Spain, and a pioneer of advanced technologies including Virtual Reality (VR). With a speaking record of over 100 conferences, Carlos delivered an inspired talk taking the audience through the evolution from distance learning to MetaEducation. Carlos also spoke at everyone's favourite OEB event, the annual debate.


The anticipated annual debate
The wait was finally over in the evening of Thursday, November 24 — the great #OEB22 debate was about to start! The main conference hall was filled with eager delegates with complimentary drinks, ready for the 'OEB Annual Debate: "This House Believes Education Should Move to the Metaverse'. Carlos was joined by CEO of the Metaverse Institute, Christina Yan Zhang, to argue against the motion. Arguing for the motion was René Schulte, Director of Global Innovation at Research & Incubation, Valorem Reply, and Andy Fidel – Spatial Network Evangelist & Immersive Experience Designer.

René kicked the debate off saying that when you have a VR headset on '…you're fully focused, right? If you put this device on, you're shutting off the real world around you mostly and you have full field of view.' From the other side, Carlos expressed that in order to learn effectively, we have to be human and '…talk about real problems, because we think we are in a cloud! When we open the door, there are energy crises, we have war, we have many crises.' Carlos asked the audience to raise their hand if they were a woman, and half the crowd put their hand up, and then he asked the same to all who were men – another half. Carlos asked any robots to raise their hand if they were in the crowd, and no hand was raised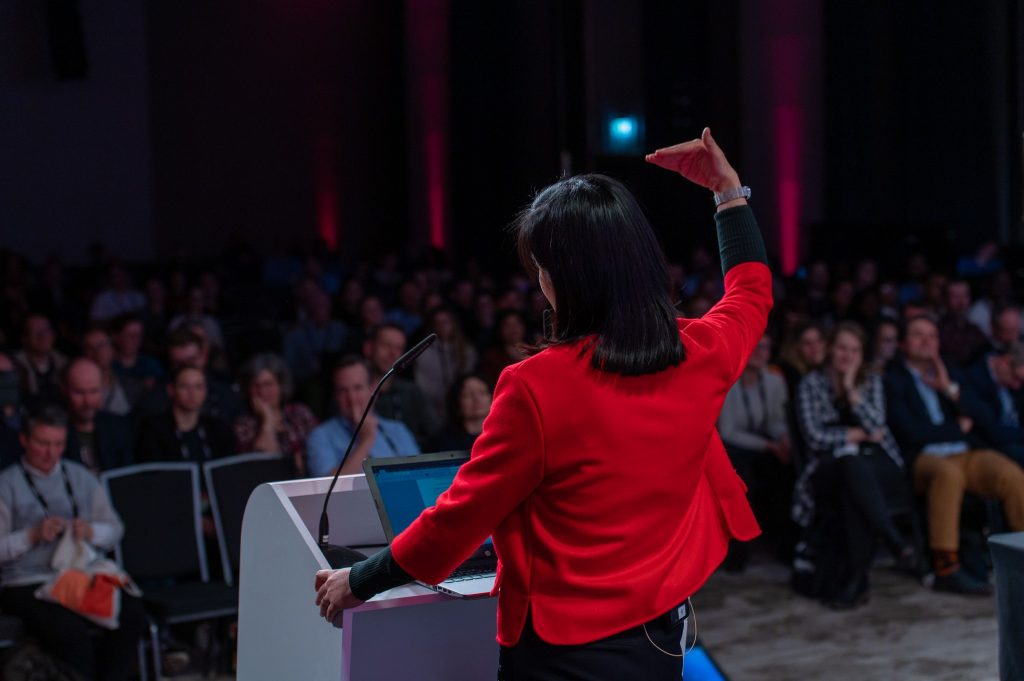 Andy Fidel sparked her argument off with effective ways of learning that you can't do in the physical world, but are possible in the Metaverse. One of these ways is that 'You learn to discover people from the inside out. And in this physical space, we always learned and discovered people from the outside in – if you ever get in, because sometimes you just see someone and you just completely bypass who they are…' Christina exercised her deep knowledge of the Metaverse, claiming that 'Education should not move to the Metaverse – yet. Because we are not ready; as simple as that.' She alluded to the fact that the last attempt at moving education into the Metaverse was Second Life, back in 2006, which now is not used by any university.
'In one sentence: the Metaverse is really the convergence of a whole range of cutting-edge technologies coming together to form the next generation of the internet.'

Christina Yan Zhang, CEO of the Metaverse Institute



The buzzing exhibition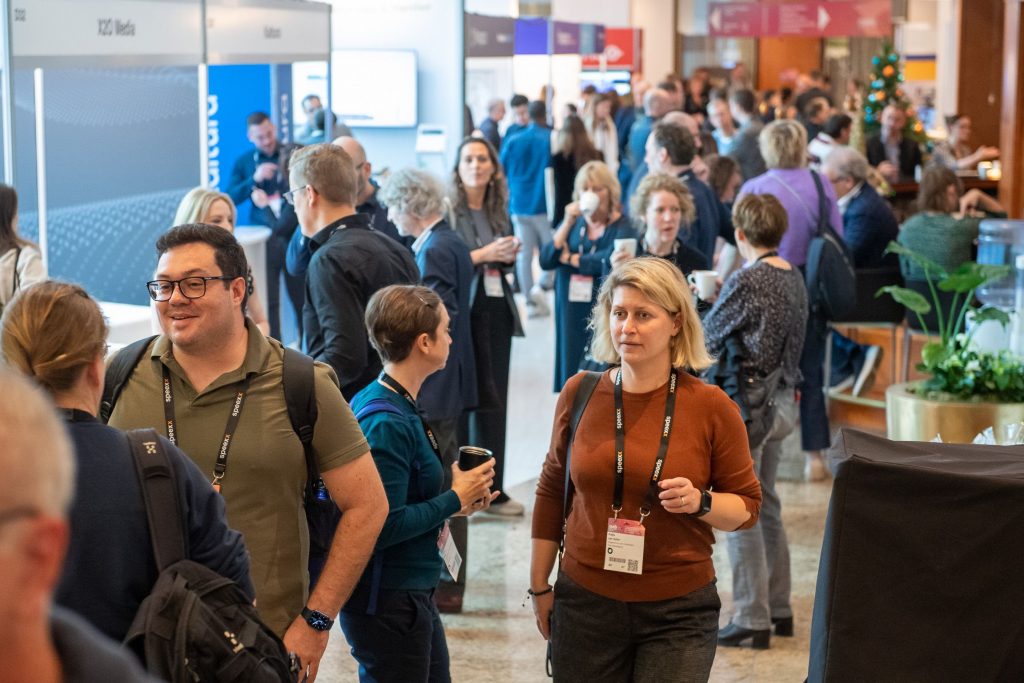 The OEB exhibition is a networking hub at the centre of the event. The exhibition is a vibrant, friendly place perfect to discover the latest and greatest in the world of learning technologies – the colourful floorplan maps out a range of tools and solution providers with varying innovations in the industry.

Jonathan Durrant from Cypher Learning said, 'We've been doing loads of demos which basically go through many of key features, some of our unique features as well – which people seem to be really happy with!' Across the exhibition floor on Panopto's stand, Peter Ingle said that 'Many of the customers that are with us a long time come to this event to learn, to collaborate, to share best practices.' Alina Booge from Busuu shared that their team had a talk with a client '…about inclusion and diversity…and that's been really, really good – we've had a lot of feedback and people are really engaged!'


Networking in the heart of Berlin
It wouldn't be Online Educa Berlin without our fantastic range of fringe events, all designed to give our delegates the best chances for networking. The beauty of hosting an event in Berlin, is that it's located at located in one of Europe's most culturally-rich and historic cities. There is something happening every day around the main OEB conference, which we warmly invite our guests to attend and join us in.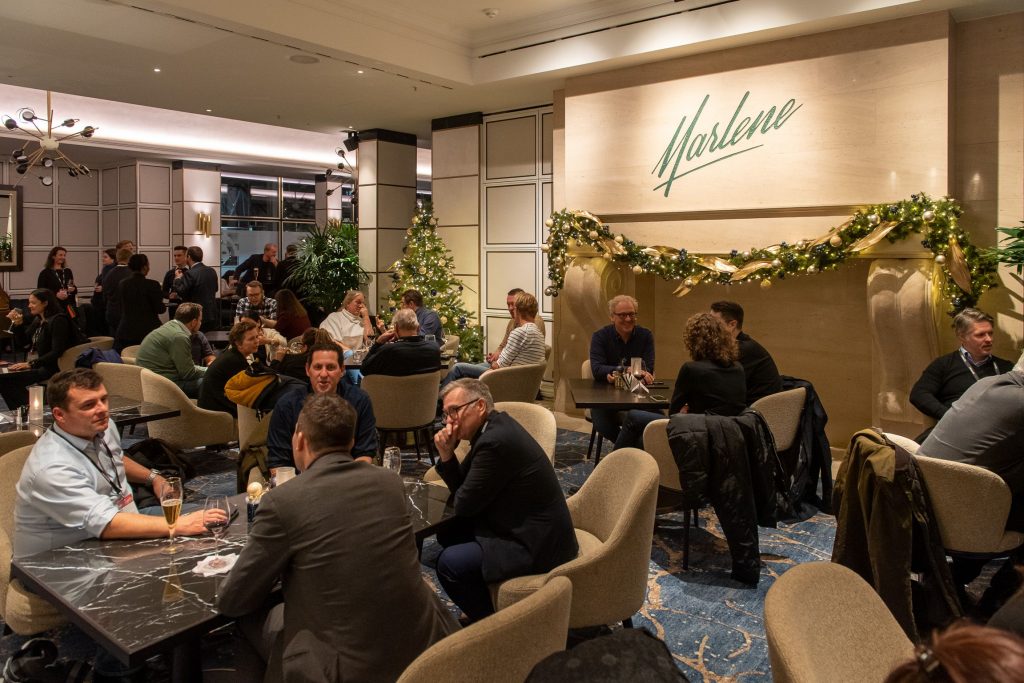 You don't want to miss out on the drinks' reception on the Thursday evening, hosted at the Marlene Bar in the centre of the venue. OEB welcomed delegates with complimentary beer and wine, handed to them while engaging in fruitful conversations following a busy day at the conference. The ongoing hotel spa discount available to all delegates is the perfect opportunity to detox before or after a long day, and if you're more of a morning person, this year saw a yoga session in the Köpenick III room on Thursday morning.

Friday evening, however, is when we wrap up the entire conference and invite everyone to enjoy a magical element of German culture. OEB is right round the corner from one of Berlin's famous Christmas Markets, where networking takes on a different form with a glass of Glühwein and tasty German delicacies. We hope this brings you warmly into the festive season and concludes yet another fantastic year at OEB Global.



Save the date for #OEB23
On November 22nd-24th, OEB Global will return to Berlin for 2023. Keep in touch with us until then and share all your memories from the conference this year using #OEB22. In the meantime, we welcome you to subscribe to our newsletter for the latest updates on #OEB23, as well as the top news in digital learning, brought to you by experts.


Written for OEB Global 2022 by Chloë Sibley.
Source: Online Education Berlin, Full article can be found here OEB Global 2022: A Wrap-Up – OEB Insights